Blog
Marty Martin
September 25th, 2008
0 Comments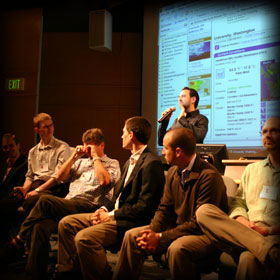 In August our principal visited Seattle for a pro training seminar sponsored by the experts at SEOmoz.  It was an intense two days covering a variety of search engine optimization techniques, industry news, social media, question and answer and many other search topics.
It was also a great opportunity to connect and network with other search engine professionals from around the world.  There were in-house SEO experts from companies like Microsoft and Best Buy and from as far away as Germany, England and New Zealand.  The broad array of experience and knowledge at the seminar became exceptionally apparent during the excellent question and answer session (see image on right).
Day 1 topics
Elite website architecture
Thinking like a search engineer
Spam detection and false positives
Global search trends
Sitemaps and webmaster tools
Crawlability
Legal issues
Day 2 topics
Reputation management
Social networks for SEO
Opportunities/pitfalls of link buying
Enterprise link building
Vertical search inclusion
Future of search engines
This fantastic conference featured expert SEO speakers from around the world including Danny Sullivan, Rand Fishkin, Stephan Spencer, Rebecca Kelley, Nick Gerner, Will Critchlow, Duncan Morris, Sarah Bird, Jeff Pollard, Jane Copland, and Seth Besmertnik.
SEOserpent believes strongly in the value of continuing education and keeping abreast of the latest trends in the search field.  New techniques evolve every week, new ideas, every day and of course the search engine algorithms change fairly frequently.  Keeping atop of all the latest requires continuous discipline and effort but the dividends our clients gain far outweights the time needed to stay afloat.
Marty has been an active search marketing professional for over 12 years. He has consulted with the Fortune 100 and Fortune 500 as well as medium to small B2B and B2c businesses, governments and higher ed.